For Immediate Release August 22, 2017
ISWS groundwater expert to participate in community forum on irrigation
CHAMPAIGN, Ill. - George Roadcap, a scientist at the Illinois State Water Survey (ISWS) and an expert on groundwater and the Mahomet Aquifer, will participate in a community conversation on irrigation sponsored by the Midwest Center for Investigative Reporting from 7 to 9 p.m. Aug. 24 at the Champaign Public Library.
While recent news articles suggested that irrigation in Illinois is causing statewide concern over the availability of the groundwater we rely on for agriculture, industry, and human consumption, ISWS scientists have found that most areas in Illinois do not have a concern related to agricultural irrigation.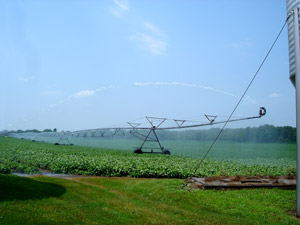 "Irrigation typically occurs in areas with sandy soils, which also generally have significant groundwater resources and high rates of groundwater recharge," which is rainfall seeping into the ground and replenishing the aquifer, said Steve Wilson, a groundwater hydrologist at the ISWS. Wilson said areas where irrigation occurs tend to be in lowlands along major river valleys, which generally have no concerns about the availability of groundwater.
The ISWS published a map in 2015 of all of the center pivot irrigation in Illinois (map PDF). In Illinois, these systems—which have large overhead pipes that rotate around a central pivot point—can irrigate an area as small as 10 acres, or as large as 600 acres.
The ISWS has seen an increase in irrigation throughout the state, but to date, there has been no known depletion of groundwater resources. Irrigation is seasonal, and though water levels can drop due to high-capacity pumping, groundwater levels recover in the off season. Long-term data from ISWS monitoring of water levels throughout Illinois show that aquifers in most irrigated areas have remained fairly constant over the past 30 years, or their differences can be attributed to non-irrigation water withdrawals. For example, in Mason County, where the Mahomet Aquifer is at the surface, there are nearly 2,000 center pivot irrigation systems, yet the water levels there are the same as they were in the early 1960s when center pivot irrigation was a new technology and less than 100 systems were in place.
In Champaign County, the sand that forms the Mahomet Aquifer is deeply buried under 100 to 150 feet of clay-rich material that causes the aquifer to be under pressure. A high-capacity well will reduce this pressure, creating a drawdown in water levels without actually draining the aquifer itself.
"Because the irrigation wells are operated in areas with high pressure, we have always observed a very quick recovery of water levels, back to non-pumping levels, when high-capacity wells are shut off. This has been the case since we started monitoring water levels in the irrigated area in 1996," said Roadcap.  "In Champaign County, most of the soils are heavier than in Mason County, so typically, there is less irrigation per acre, and the irrigation season is much shorter, maybe only 6-8 weeks. We did see a long-term downward trend in water levels in the Mahomet Aquifer in Champaign County related to municipal water use until about 2009, when municipal water demands stopped growing."
Roadcap said he is aware of very few cases of well interference problems due to irrigation in Illinois, and it's likely that the one case that occurred in Champaign County was due to how the irrigation well was constructed, not an aquifer depletion issue.
Irrigators began reporting water use in 2015. While the data collection was slow at first, ISWS scientists say irrigators have begun to see the value in providing their water use data.
"Especially in this area, Champaign-Ford-Vermillion Counties, the irrigators have really stepped up," Wilson said. "We received water use data for 81% of the irrigated acreage in these three counties for 2015 and 92% for 2016.  In some areas, like Crawford County for example, we only received data for 37% of the acreage for 2015, but that jumped to 70% for 2016."  These numbers are comparable to historic reporting percentages for public water supplies and industrial-commercial water users.
Some areas in Illinois have been slower to provide data, but as the Illinois Water Inventory Program (IWIP) continues to work with irrigators, and stakeholders like the Illinois Farm Bureau, the ISWS expects reporting to continue to grow.
Both Wilson and Roadcap stressed the importance of the IWIP program.
"Our job, and responsibility, is to the citizens of Illinois. These data help us understand how water withdrawals affect aquifers, water levels in wells, baseflow to streams, and the overall availability of groundwater," Wilson said.
With this data the ISWS can provide information to better predict future water needs and water use impacts that benefit Illinois agriculture, communities, private well owners, and other stakeholders.
"We work hard to be a good partner to agriculture, just as we do with community water supplies and the industries and commercial facilities that have high-capacity wells," Wilson said.
Roadcap added, "We know a lot about the major aquifers in Illinois, like the Mahomet Aquifer, because of the water use data we have collected since the early 1980s. Water use information, along with water level and geologic data, have allowed us to provide accurate information to planners, water users, and other stakeholders on what our aquifers can and cannot sustain."
The amount of irrigation in Illinois has increased in recent years, but it has not caused any significant water issues in the state to date, nor does the ISWS have any data to suggest that will happen any time soon.
"There is no doubt that there are limits on the amount of water withdrawal any aquifer can maintain, but we really aren't there yet, especially due to irrigation. Some areas of the state, like in the Chicago metro area, we are already aware of the potential water issues that might develop because of the expected population growth, but that has nothing to do with irrigation," said Roadcap.
The Aug. 24 roundtable is open to the public, but RSVP is requested at https://www.eventbrite.com/e/uncharted-waters-a-community-conversation-around-water-use-issues-tickets-36866293075.
The Illinois State Water Survey at the University of Illinois at Urbana-Champaign, a division of the Prairie Research Institute, is the primary agency in Illinois concerned with water and atmospheric resources.