For Immediate Release September 25, 2017
Climatologist compares rainfall from Hurricane Harvey with Chicago storms
CHAMPAIGN, Ill. - What would happen if the rain from Hurricane Harvey that fell in Houston, Texas, hit Chicago? The result would be unlike any rainstorm that Chicago has ever seen, according to Illinois State Climatologist Jim Angel.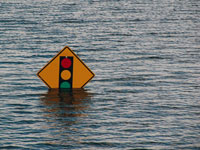 "Here in Illinois, it is hard to appreciate the scale of the disaster from Hurricane Harvey," said Angel, a scientist at the Illinois State Water Survey, a division of the Prairie Research Institute. Areas of Houston received more than 40 inches of rainfall in five days; Illinois averages 40 inches of precipitation a year. "Imagine getting more than a year's worth of rain in five days."
To put this into perspective, 40 or more inches of rain would cover most of the Chicago area and stretch westward toward Rockford and beyond. Even 20 inches or more of rain would cover most of Illinois north of Interstate 80 and extend into southern Wisconsin.
Angel compared rainfall amounts of Hurricane Harvey with the July 17–18, 1996 storm that hit northern Illinois and set the record for the most rain in 24 hours: 16.94 inches in Aurora. Six people in Illinois died from this event and the damages were estimated at $600-$700 million in 1996 dollars. Although this storm caused substantial damage in Chicago, the rainfall totals were much smaller than from Hurricane Harvey and covered a smaller area.
Tropical systems can affect Illinois, but they usually weaken by the time they arrive because the state is not near any abundant sources of moisture such as the Gulf of Mexico. For example, the remains of Hurricane Ike on Sept. 11–15, 2008 produced widespread heavy rain. Parts of northern Illinois received a total of 8 to 10 inches during the five-day span, and rain in parts of central Illinois totaled 5 to 8 inches. Meanwhile, rain in parts of southern Illinois totaled only 1 to 1.5 inches.
About the Prairie Research Institute: The Prairie Research Institute (PRI) at the University of Illinois at Urbana-Champaign provides objective expertise, data, and applied research to aid decision making and provide solutions for government, industry, and the people of Illinois. PRI is the home of the state's five scientific surveys: the Illinois Natural History Survey, Illinois State Archaeological Survey, Illinois State Geological Survey, Illinois State Water Survey, and Illinois Sustainable Technology Center. www.prairie.illinois.edu
Media contacts: Jim Angel, Ph.D. (217) 333-0729, jimangel@illinois.edu
Tricia Barker, Associate Director for Strategic Communications, 217-300-2327, tlbarker@illinois.edu